Event 7: Relay Race
The athletes were put into 4 teams of 5, as shown in the image below: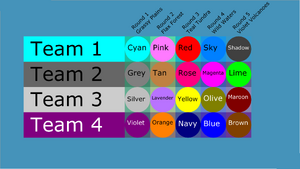 Round 1
Cyan, Grey, Silver and Violet ran through the Grassy Plains. In the background, there were a few trees, including Pree and Cee.
Round 2
Pink, Tan, Lavender and Orange ran through Flax Forest. There were a few flax trees in the background.
Round 3
Red, Rose, Yellow and Navy raced through Teal Tundra. There were ice shards and an ice cave from Day 6 in the background.
Round 4
Sky, Magenta, Olive and Blue raced through Pinfield Docks, the entrance to the Wild Waters. There was a tree, a shack, a sign and two boats in the background.
Round 5
Shadow, Lime, Maroon and Brown raced through the Violet Volcanoes. There were volcanoes in the background.
Round 6
Everybody raced again through the Jammed Jungles to determine their individual scores. Pree, Cee and Three appeared in the background along with several large jungle trees.
Intermissions
Pathetic Failures: Episode 1
Stickman Experiments: Episode 5
Video
Ad blocker interference detected!
Wikia is a free-to-use site that makes money from advertising. We have a modified experience for viewers using ad blockers

Wikia is not accessible if you've made further modifications. Remove the custom ad blocker rule(s) and the page will load as expected.